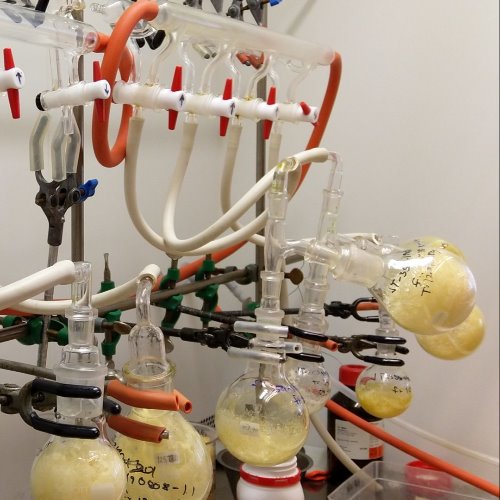 Medicinal Organic Synthesis Research Group
01.01.2019 -
Medicinal Organic Synthesis Research Group is a vibrant and innovative group of young scientist pursuing the challenges of medicinal chemistry by synthetic chemistry.
Our mission is to develop new and improve present synthetic methods for preparation of organic molecules for medicinal and pharmaceutical research. As a part of the School of Pharmacy in University of Eastern Finland, most of the research is carried out in our own state-of-the-art laboratories, which are located in the Kuopio Campus in eastern part of Finland, north Europe
Our story began in 2016, when Principal Investigator, Dr. Juri Timonen, started research under the supervision of Professor Jarkko Rautio and soon continued as an independent researcher. To date, the group has three main topics and several collaborative side-projects. Dr. Timonen also collaborates with several national research groups from University of Eastern Finland and other universities.
Our group offers an inspiring and dynamic research environment for researchers from different academic stages and backgrounds! Interested undergraduate, graduate, and PhD students of chemistry, biomedicine, bio sciences, pharmacy and related disciplines are welcomed to apply to enrich our team. Our state-of-the-art synthesis laboratory offers possibilities to work with heterocyclic compounds, amino acids, and different classes of boron compounds. Our collaborative projects also work with molecular modelling, mass spectrometry, NMR, natural products, and prodrugs.
Homepage of the group
Keywords
Time period
01.01.2019 -
Group members - UEF
Other group members