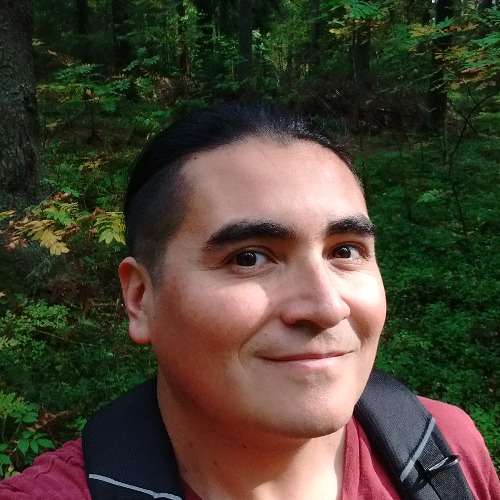 GERMáN QUIMBAYO RUIZ
Scholarship Researcher-Ph.D. candidate
Department of Geographical and Historical Studies, Environmental Policy.
Ph.D. candidate and researcher in Environmental Policy at the Department of Geographical and Historical Studies. My research specialties are the political ecology of urbanization and urban environmental history, with a focus in Colombia. I worked in 2019 as an external guest researcher with the Natural Resources Institute Finland (Luonnonvarakeskus-LUKE), in Turku. I hold degrees in Ecology (Pontificia Universidad Javeriana, Bogotá) and an MSc. in Geography (Universidad de Los Andes, Bogotá). Before my Ph.D., I had worked in Colombia with environmental state and public agencies (Secretaría Distrital de Ambiente, Bogotá; Alexander von Humboldt Institute; IDEAM-Institute), and local organizations.
Contact info
Email
german.quimbayo@uef.fi
Phone
-
Keywords
Teaching Activities
* Lecture-module: "Critical human-environment relations: Overview of Political Ecology". Trends in Theoretical Thinking in the Social Sciences. International Master Program "Border crossings". Department of Geographical and Historical Studies, Joensuu (2018 and 2019).
*Presentation (in Spanish): Coloquio Estudios Urbanos Interdisciplinarios. Sesión sobre movimientos sociales urbanos. Organized by Diana Ojeda (Instituto PENSAR de la Pontificia Universidad Javeriana) and Sergio Montero (CIDER-Universidad de los Andes). Bogotá, March 31st, 2017.
*Presentation (in Spanish): "Ambiente y Territorio: El Territorio más allá del Ordenamiento Territorial" Seminario de investigación de la Maestría en Ordenamiento Urbano-Regional de la Universidad Nacional de Colombia, sede Bogotá. Seminario a cargo de Alice Beuf, Departamento de Geografía, Facultad de Ciencias Humanas de la Universidad Nacional de Colombia. February 22nd, 2018.
*Guest lecturer in the course Module-Global Governance for Sustainable Development (led by professor Meri Juntti)-Department of Law and Politics, Middlesex University, London, the U.K. October 9th, 2019.
*Presentation at the Center of Agroecology, Water and Resilience, Coventry University-CAWR: 'Reterritorialisation practices and strategies of campesinos in the urban frontier of Bogotá, Colombia'., October 15th, 2019. (Hosted by professor Alexandra Franklin).
Societal Activities
*Interventions and talks. See: https://uef.academia.edu/gquimbayo
*Guest speaker at the event: Kehittyykö Kehitys? Kehityksen määrittelyä meillä ja muualla. Joensuu, April 25th, 2018 Event organized by Kohtuus Vaarassa, Social democratic youth of Joensuu, Nature League Savo-Karjala, and Left Youth of Joensuu.
*Guest speaker in the event: What is happening in South America and why? The event was organized by the discipline of Development Studies and the Academy of Finland Research Project: Citizen Utopias in the Global South, University of Helsinki. The event was organized in ThinkCorner at the University of Helsinki. January 13th, 2020.
Research groups and research projects
Landscapes of Bogotá: Contested urban environments and dynamic social movements (Rodolfo Llinás Founding Program-CEIBA Foundation, Colombia, and HiMa-UEF, Finland)
Environment, Society and Development in Latin America Research Group (ESDLA)
ESDLA-Blog Editor: https://blogs.uef.fi/envirolatam/
Research groups - UEF
Links