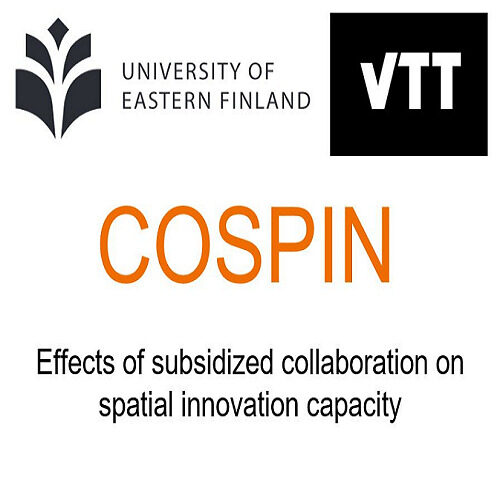 Effects of subsidized collaboration on spatial innovation capacity (COSPIN)
Project
Finished
01.09.2020 - 30.06.2022
Karelian Institute, Faculty of Social Sciences and Business Studies
Funders
Project funded by Business Finland
Leaders
This project "Effects of subsidized collaboration on spatial innovation capacity (COSPIN)" explores the spatial patterns of innovation and knowledge spillovers and linkages of collaboration between different innovation actors in four work packages: WP 1 investigates the impacts of subsidized RDI activity on regional knowledge spillovers and innovation capacity; WP 2 traces impacts of informal spatial knowledge linkages on companies' innovation activity; and WP 3 investigates the impacts of subsidized collaboration on demand-side innovation, regional knowledge spillovers and societal challenges. In addition, the project plays (in WP4) special attention to dissemination and outreach activities to ensure the usability and utilization of the project results by a wide group of stakeholders: The project is designed to produce new knowledge for policy makers who are responsible for developing policies related to RDI subsidies, regional development and innovation capacity, innovation policy and demand side innovation activity. These are all timely topics in the Programme of Prime Minister Sanna Marin's Government but also topics that reach to understand past and future transformation of innovation policy, and that are thus, grounded on highly scientific premises.
UEF is responsible for WP1.
The project is funded by Business Finland.
Cooperation
Keywords