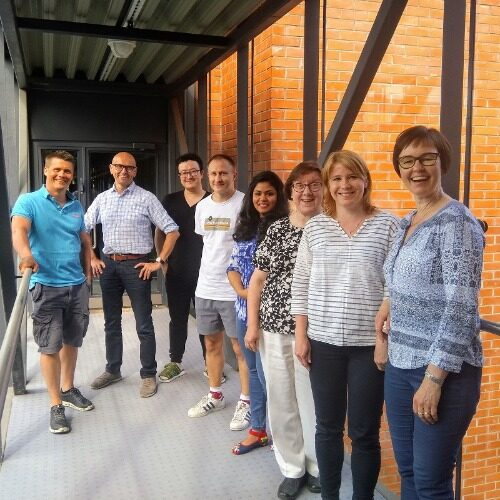 Kuopio Musculoskeletal Research Unit (KMRU)
Research group
Institute of Clinical Medicine, School of Medicine, Faculty of Health Sciences
Leaders
Kuopio Musculoskeletal Research Unit (KMRU) headed by Prof. Heikki Kröger, is a multidisciplinary research organization located at the Kuopio campus. In our interdisciplinary study group work specialists from several departments (orthopedics, gynaecology, internal medicine) and our study nurses have long-term experience in performing large clinical trials.
Our research interests include pathophysiology, genetics, epidemiology, exercise physiology, diagnosis, prevention and treatment of osteoporosis (and related fractures) and osteoarthritis. KMRU is closely linked with Department of Orthopaedics, Traumatology and Hand Surgery, Kuopio University Hospital. The core of the KMRU is the globally recognized Kuopio OSTPRE Study.
We also offer national and international bone and cartilage research services covering the whole chain from basic research to clinical trials.
Links
Projects
Cooperation
Seminar Series in Clinical Musculoskeletal Research / KMRU

The seminar series concentrates on clinical aspects of musculoskeletal research. The seminar consists of invited lectures and presentations of the post doctoral and graduate students. The main subjects deal with: bone biology, bone biomechanics, exercise physiology, fall prevention, osteoporosis, cartilage tissue, clinical research methods, clinical orthopedics. Seminar series takes place once bimonthly.

Persons in charge:

Joonas Sirola, MD, PhD, Associate Professor, joonas.sirola(at)kuh.fi
Heikki Kröger, MD, PhD, Professor, heikki.kroger(at)kuh.fi
Toni Rikkonen, MSc, PhD, Adjunct Professor, toni.rikkonen(at)uef.fi

1,5 ects (75% attendance, with own presentation 2 ects)

Further Information on Musculoskeletal Disorders

Other Links

Postal address

University of Eastern Finland
Kuopio Musculoskeletal Research Unit
P.O. Box 1627
FI-70211 Kuopio
Finland

Mediteknia building
Leaders
Professors
Senior Researchers
Doctoral Researchers
Supporting Staff
Research Nurses
Other group members
Päivi Rauma, Pharmacist, PhD

Jarmo Saarelainen, MD, PhD

Masoud Isanejad, MSc, PhD