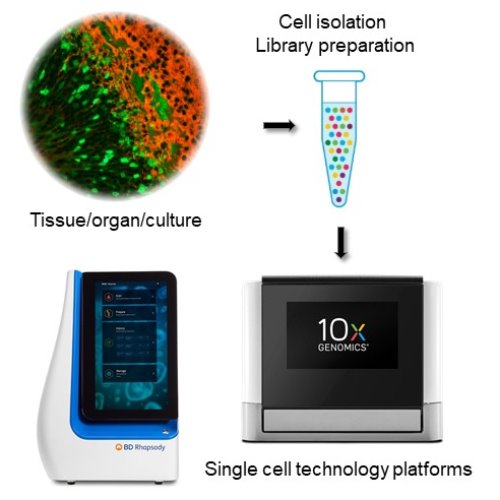 Single Cell Genomics Core
Single cell genomics technologies are transforming our understanding of biology and disease. This technology can be applied across a breadth of research areas to provide detailed cellular maps of tissues, organoids, and cell-based models.

As a part of the national Biocenter Finland single-cell omics technology platform service, the mission of the Single Cell Genomics core is to providing access to the latest technologies in the field on single cell genomics. Currently, we provide single-cell single-cell transcriptomics (RNA-Seq) and epigenetics (ATAC-Seq) services using commercial platforms from 10 x Genomics (Chromium controller) and BD Biosciences (Rhapsody). We also provide consultancy in experimental setup and data analysis.
At the moment our services consist of high throughput single-cell transcriptomics (RNA-Seq) and epigenetics (ATAC-Seq). In addition, we provide scientific consultation and engage in research collaborations focused on development and implementation of new methods and technologies.
We offer the 10 x Chromium technology as staff-assisted service. Also BD Rhapsody platform is also available for applications requiring low cell numbers (500-1000 cells) or for cells that might not be compatible with other systems.
Spatial transcriptomics will be piloted in spring 2022, stay tuned!
Core Personell:
Minna Kaikkonen-Määttä (Head of the Unit)
Tiit Örd  (Scientific Coordinator)
Mari Taipale (Scientific Coordinator)
Tuula Salonen (Lab Manager)
Keywords
Group members - UEF
Collaboration with UEF research groups
Cooperation partners