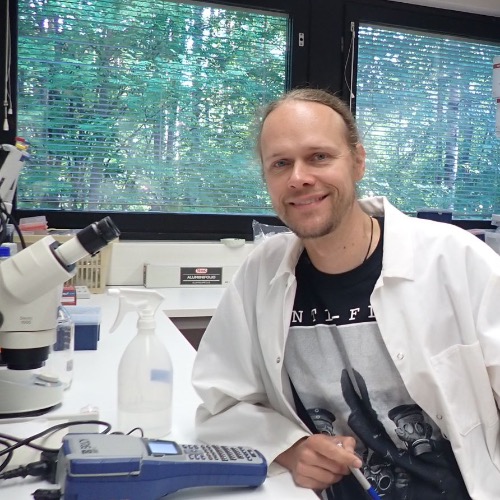 JAAKKO POHJOISMäKI
Research Director
Senior researcher (Genetics)
I am a molecular biologist and a research group leader focused on molecular biology of mitochondria. As a side I have ongoing projects in population genetics and evolutionary biology. Through my extracurricular activities, I have wide expertise on biodiversity, species identification, dogs and hunting. Previous work experience include biomedicine and forensic biology.
Contact info
Organization
Faculty of Science and Forestry, Department of Environmental and Biological Sciences
Email
jaakko.pohjoismaki@uef.fi
Phone
+358 50 361 0813
Keywords
Teaching Activities
Diversity of life-course: Introduction, viruses, lower eukaryotes
Cell and molecular biology III: molecular biology and biotechnology
Genetics and evolutionary biology
Genetic modification of organisms
MSc seminars in biology
Societal Activities
Chairperson for the Diptera-study group under the Finnish environmental institute.
Board member of the Finnish spitz future committee, Finnish spitz association and Finnish Kennel Club.
Chairperson of the breeding advisory group for Nordic spitz (Norrbottenspets) dogs, the Finnish spitz association
Board member of the Finnish spitz association
Research groups and research projects
Principal investigator in mitochondrial biology and hare research -research groups.
Molecular biology: mitochondrial DNA repair and replication, oxidative stress, radiation biology.
Taxonomy: Oestroidea, Asiloidea, Tabanomorpha (Diptera, Brachycera).
Research groups - UEF
PROJECTS - UEF
Publications