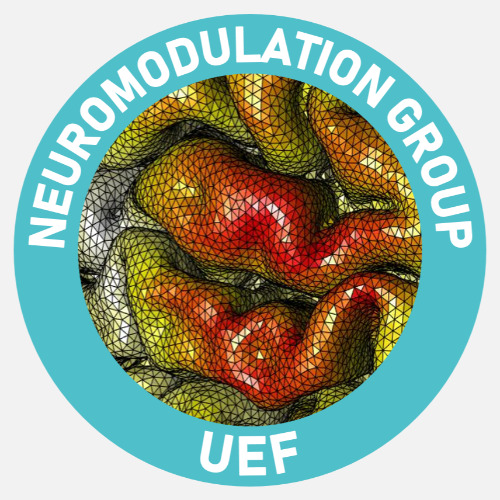 Neuromodulation research group
We develop and study neuromodulation as means to map brain functions and treat the brain non-invasively.
Our research group operates in the Department of Applied Physics in University of Eastern Finland and in the Diagnostic Imaging Center of Kuopio University Hospital in Kuopio, Finland. Our research facilities are located at the Kuopio University Hospital building 1A, 1. and 2. floor, where we function close with the Department of Clinical Neurophysiology. There we conduct internationally recognized neuromodulation research, in more specific terms our research is best known for method-development in mapping cortical motor functions.
Group description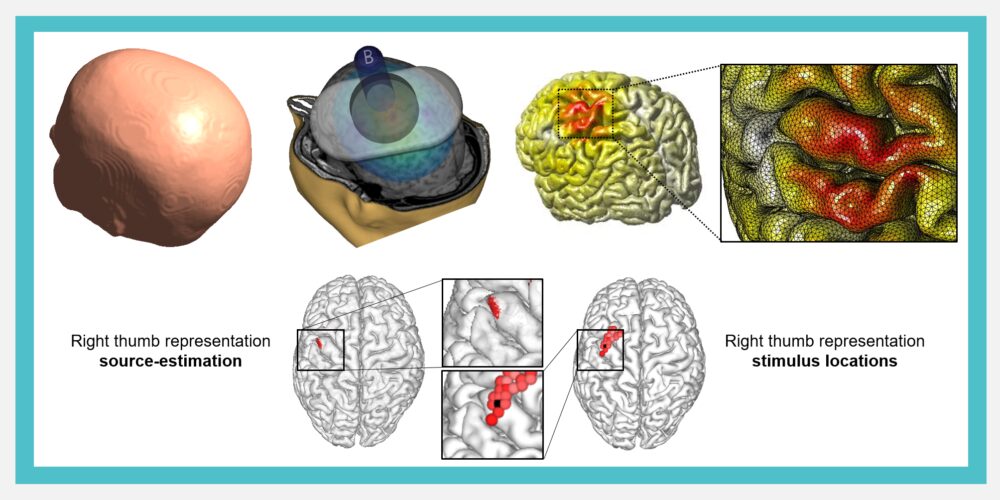 Neuronavigated transcranial magnetic stimulation, where a coil is used to target quickly changing magnetic field onto the cortex of the brain to induce electric field, which in turn activates the neurons of the cortex. Consequenly, muscle contraction may follow the stimulation. Activation of the cortical neurons can be modelled and studied. When mapping the cortical representation of a muscle, electric field modeling can be utilized to quantify the representation size and location.
Our research focuses on the neuromodulation, functional imaging, theoretical assessment and biomechanical measurement of the neuromuscular function connecting the human brains to motion. Our main focus is in the quantitative analysis motor function, and motor cortical control of muscle action. In addition, we have a general focus on methodological development of the navigated transcranial magnetic stimulation methodology, technology and response analysis tools to improve the accuracy and applicability of mapping the motor function as well as increasing the efficiency of neuromodulation treatments with navigated repetitive transcranial magnetic stimulation (rTMS).
The key methods we apply and develop are navigated transcranial magnetic stimulation, electromyography, electroencephalography (TMS-EEG), modeling of neural function, motion analysis, radiological imaging and biomechanical tests and modeling. We actively collaborate with other national and international research groups. Our research group includes members who are specialists in medicine, physics and biomedical engineering. Neuromodulation research group also operates as a member of the "Musculoskeletal diseases" research community.
We are funded by:
State research funding
Other private foundations
Keywords
Group members - UEF
Leader(s)

Senior Researchers

Post-doctoral Researchers

Doctoral Researchers
Other group members
Jusa Reijonen / Post-Doctoral researcher and Specializing medical physicist

jusa.reijonen@kuh.fi

Meri Julkunen / Study nurse

meri.julkunen@kuh.fi

Minna Pitkänen / Post-Doctoral researcher

Nils Danner / Senior researcher, Neurosurgeon

Jani Sirkka / PhD student

Jelena Hypponen / MD, PhD, Academy Fellow

Olli Löfberg / MD, PhD, Post-doctoral researcher

Anna-Leena Voutilainen / Study Nurse

anna-leena.voutilainen@kuh.fi

Joel Naukkarinen / PhD Student
Collaboration with UEF research groups
Cooperation partners