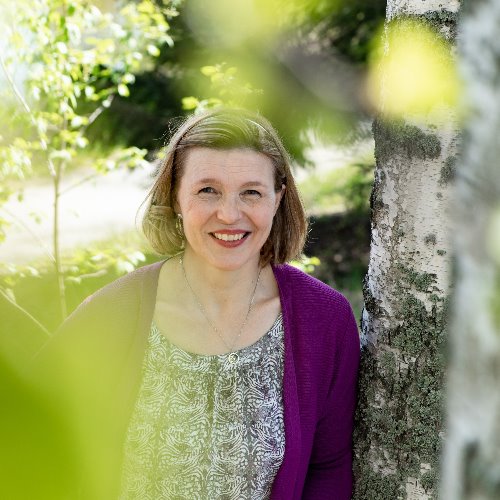 TERHI SAARANEN
Professor
Professor (nursing science, health pedagogy), PhD, MA (Education), RN, PHN
I started working at the University of Kuopio in the autumn of 2000 (1 August 2000). I currently work as a professor (nursing science, health pedagogy) at the Department of Nursing Science at the University of Eastern Finland. My task has been to  develop research and teaching in the field (e.g, teacher education in nursing science at UEF) and to teach bachelor's, master's and postgraduate students in nursing science and continuing education programmes. My research, teaching and social activities are focused on health education, promoting health in nursing (e.g., occupational well-being research in different contexts nationally and internationally) and treating long-term health problems (e.g., job burnout, stress and related treatment and prevention among students and workers) in a digital society. Since 2001, I have been involved as a researcher and research group member in the Schools for Health in Europe network and since 2021 I have also been involved as a member in the FINE network, which is a European health care teacher network.
Contact info
Organization
Faculty of Health Sciences, Department of Nursing Science
Email
terhi.saaranen@uef.fi
Phone
+358 50 094 0242
Keywords
Teaching Activities
As an  example of this work, I have  been planning and developing many courses at the Department of Nursing Science (e.g. Didactic and pedagogical starting points and solutions in Nursing science 9 ECTS credits ), particularly introducing features of flipped learning and learning technology in the courses. I have also planned and developed  other several different web-based courses and two MOOC courses (e.g. UEF/MOOC: The Principles of Digital Pedagogy in Instruction and Teaching 2 ects)  at the University of Eastern Finland as well as learning materials in nursing science and health sciences at the Open University of Eastern Finland.
*Teaching Award in 2019 – Large Simulation Teaching (Vuoden opetustekopalkinto 2019 – suursimulaatio-opetus). (one of the team members who received the award). University of Eastern Finland.
*Proficient Teaching Award (Taitava opettaja palkinto) in 2017. University of Eastern Finland.
Societal Activities
Positions of trust in society
A deputy member at the council of the Hospital District of Northern Savo as a representative of the University of the Eastern Finland (from 2013-)
Member of the consultative committee of education in care at the Savonia University of Applied Sciences (from 2014-)
Membership and positions in scientific and scholarly societies of universities and other research organizations
A member of the research group in the Schools for Health in Europe Network Foundation (SHE) (from 2015–). Schools for Health in Europe Network Foundation (SHE) is a network of healthpromoting school professionals and researchers in the WHO European Region. SHE supports the development and implementation of school health promotion and is supported by WHO Europe and the European Commission.
A member of the Board for studies in health promotion in the Open University (University of Eastern Finland) (from 2017–)
Learning environments working group at the University of Eastern Finland (from 2020-)
Competence development working group at the University of Eastern Finland (from 2020-)
An alternate member of the Board of Appeal at the University of Eastern Finland (from 2017-)
Deputy of the Board of Directors in the Finnish Association of Nursing Research (in 2009–2011)
Chairman of the planning group in the University Network of Health Sciences (TerveysNet) (in 2007– 2008)
Member of the planning and supervision group preparing and organising occupational health expert courses (Työterveyshuollon osaamista syventävät opinnot 25 ECTS credits) for master students at the university and students of universities of applied sciences together with the Finnish Institute of Occupational Health (from 2009–)
Member of the co-operation team at the Faculty of Health Sciences, University of Eastern Finland (from 2010–2018)
Member of the development and evaluation commission of teaching at the Department of Nursing Science, University of Eastern Finland (from 2010–2018)
Member of the occupational well-being network representing the Department of Nursing Science at the University of Eastern Finland (from 2010–2018)
Member of the OKKE team at the University of Eastern Finland (in Finnish (from 2014-)
Member of the key teacher network at the Faculty of Health Sciences (from 2016–)
Research groups and research projects
Wellbeing at work and health through working hours in home care – 4T research and development project, 2019-2020
TerOpe project, 2017-2019
New Agenda for Nurse Educator Education in Europe, 2020-2023
Social and health care students´ and professionals' multiprofessional simulation education, 2016– 2022
Occupational well-being in Education project, 2020-2023
Research groups - UEF
Links
Publications