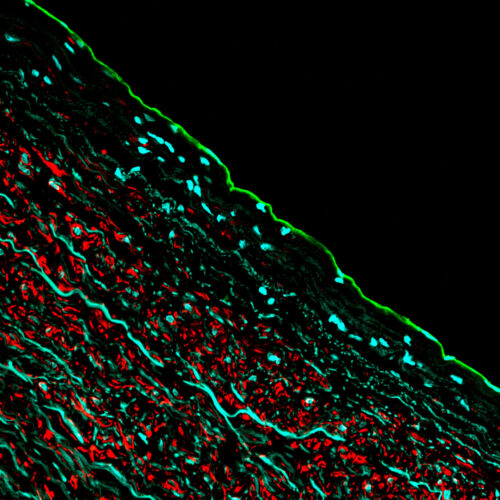 Vascular Biology (Laakkonen)
'From basic science to translational impact.'
The goal of our junior research group is to improve therapeutics and diagnostics of cardiovascular diseases by understanding the biology behind the diseases. The main focus is in studying vascular anomalies and aortic aneurysms. Particularly genetics, cell-cell interaction and angioparacrine mediators are studied. We also develop therapeutics to modulate neovessel growth.
Our projects:
Causal effects of vascular malformations
Pathogenesis of thoracic aortic dilatation
Hippo signalling pathway in vascular diseases
Novel targets in treatment of myocardial ischemia

Our group:
PI Johanna Laakkonen
Academy Research Fellow,
PhD, Adjunct Professor (Molecular Medicine)
A.I. Virtanen Institute

Project Researcher, PhD Suvi Jauhiainen
PhD student, M.Sc., Henna Ilmonen
PhD student, M.Sc., Miika Kiema
PhD student, M.Sc., Heidi Pulkkinen
Medical student Emma Luoto
Medical student Heta Rasinkangas
Medical student Akseli Kivistö-Rahnasto

Funding:
Academy of Finland's Flagship Programme GeneCellNano (genecellnano.fi), Academy Research Fellow, Academy of Finland, Finnish Foundation of Cardiovascular Research, The Finnish Cultural Foundation, The Finnish Cultural Foundation Regional Fund North Savo
Funder(s)
Main funder
Academy of Finland
Other funders
Suomen Kulttuurirahasto, Pohjois-Savon rahasto
Suomen Kulttuurirahaston keskusrahasto
Suomen Akatemia GeneCellNano Flagship
Research group description
Selected, recent publications y.2020-
1) PULKKINEN HH, Kiema M, Lappalainen JP, Toropainen A, Beter M, Tirronen A, Holappa L, Niskanen H, Kaikkonen MU, Ylä-Herttuala S, Laakkonen J.P. BMP6/TAZ-Hippo signaling modulates angiogenesis and endothelial cell response to VEGF. Angiogenesis 2021 Feb;24(1):129-144.
2) HSIN-FU LIU O, Kiema M, Beter M, Ylä-Herttuala S, Laakkonen JP, Kaikkonen MU. Hypoxia-Mediated Regulation of Histone Demethylases Affects Angiogenesis-Associated Functions in Endothelial Cells. Arterioscler Thromb Vasc Biol. 2020 Nov;40(11):2665-2677.
3) LAAKKONEN J.P., Ylä-Herttuala S. Chapter in book: Emerging technologies for heart diseases. Volume 2: Treatments for Myocardial Ischemia and Arrhythmias. 1st edition. Chapter: Gene and protein therapy approaches to cardiac neovascularization and protection from ischemia. Editor: Udi Nussinovitch. Elsevier Publishing Group. 2020.
4) TIRRONEN A, Downes NL, Huusko J, Laakkonen JP, Tuomainen T, Tavi P, Hedman M, Ylä-Herttuala S. The Ablation of VEGFR-1 Signaling Promotes Pressure Overload-Induced Cardiac Dysfunction and Sudden Death. Biomolecules 2021. Mar 17;11(3):452.
5) MOREAU PR, Bosch VM, Bouvy-Liivrand M, Õunap K, Örd T, Pulkkinen HH, Pölönen P, Heinäniemi M, Ylä-Herttuala S, Laakkonen JP, Linna-Kuosmanen S, Kaikkonen MU. Profiling of primary and mature miRNA expression in atherosclerosis associated cell types. Arterioscler Thromb Vasc Biol. 2021 Jul;41(7):2149-2167.
6) KERÄNEN S, Suutarinen S., Mallick R., Laakkonen J.P., Guo D., Pawlikowska L., Jahromi B.R., Rauramaa T., Ylä-Herttuala S., Marchuk D., Krings T., Koivisto T., Lawton M., Radovanovic I., Kim H., Faughnan M.E., Frösen J. Cyclo-oxygenase 2, a putative mediator of vessel remodeling, is expressed in the brain AVM vessels and associates with inflammation.  Acta Neurochir (Wien) 2021 Jun 29. doi: 10.1007/s00701-021-04895-z. Online ahead of print.
7) MUSHIMIYIMANA I., Niskanen H., Beter M., Laakkonen J.P., Kaikkonen M.U., Ylä-Herttuala S., Laham-Karam N. Characterization of a functional endothelial super-enhancer that regulates ADAMTS18 and angiogenesis. Nucleic Acids Res. 2021 Jul 28:gkab633. doi: 10.1093/nar/gkab633. Epub ahead of print.
Keywords
Our cover image in a recent issue of Angiogenesis journal (y. 2021). In the image, you can see cells that have formed tubes (i.e. points of the star) mimicking blood vessel formation.
Group members - UEF
Leader(s)

Senior Researchers

Doctoral Researchers
Other group members

COLLABORATION - UEF
Cooperation partners
Links