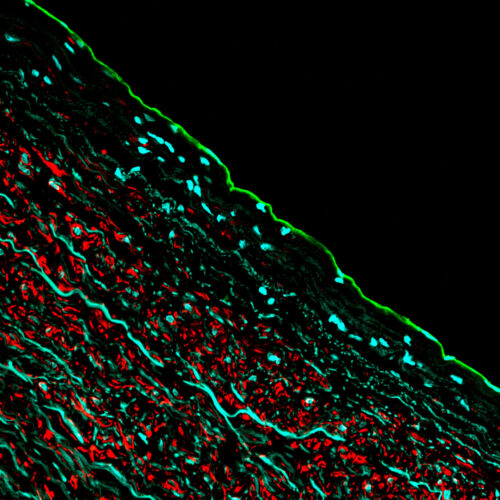 Verisuonibiologian tutkimusryhmä (Laakkonen)
Tutkimusryhmämme (junior research group) keskittyy sydän- ja verisuonitautien diagnostiikan ja hoitojen kehittämiseen, kohteena erityisesti verisuonianomaliat sekä aortan laajentuma. Tautimekanismien ja solujen välisten vuorovaikutussuhteiden ymmärtäminen mahdollistaa uudet innovaatiot.
Tutkimusprojektit:
Verisuoniepämuodostumiin vaikuttavat tekijät
Aortan dilataation patogeneesi
Hippo signalointireitin merkitys verisuonisairauksissa
Uudet hoitokohteet iskeemiseen sydänsairauteen

Tekijät:
PI Johanna Laakkonen
Akatemiatutkija, FT, dosentti (molekulaarinen lääketiede)
A.I. Virtanen instituutti

Projektitutkija FT Suvi Jauhiainen
Väitöskirjatyöntekijä, FM Henna Ilmonen
Väitöskirjatyöntekijä, FM Miika Kiema
Väitöskirjatyöntekijä, FM Heidi Pulkkinen
Lääketieteen yo Emma Luoto
Lääketieteen yo Heta Rasinkangas
Lääketieteen yo Akseli Kivistö-Rahnasto
Rahoittaja(t)
Päärahoittaja
Suomen Akatemia
Muut rahoittaja(t)
Suomen Kulttuurirahasto, Pohjois-Savon rahasto
Suomen Kulttuurirahaston keskusrahasto
Suomen Akatemia GeneCellNano Flagship
Tutkimusryhmän kuvaus
Valikoidut, viimeaikaiset julkaisut v.2020-
1) PULKKINEN, H.H., Kiema, M., …, Laakkonen J.P. BMP6/TAZ-Hippo signaling modulates angiogenesis and endothelial cell response to VEGF.
Angiogenesis (Oct, 2020). 2) HSIN-FU LIU O, Kiema M, Beter M, Ylä-Herttuala S, Laakkonen JP, Kaikkonen MU. Hypoxia-Mediated Regulation of Histone Demethylases Affects Angiogenesis-Associated Functions in Endothelial Cells. Arterioscler Thromb Vasc Biol. 2020 Sep. 3) LAAKKONEN J.P., Ylä-Herttuala S. Chapter in book: Emerging technologies for heart diseases. Volume 2: Treatments for Myocardial Ischemia and Arrhythmias. 1st edition. Chapter: Gene and protein therapy approaches to cardiac neovascularization and protection from ischemia. Editor: Udi Nussinovitch. Elsevier Publishing Group. 2020.  4) TIRRONEN A, Downes NL, Huusko J, Laakkonen JP, Tuomainen T, Tavi P, Hedman M, Ylä-Herttuala S. The Ablation of VEGFR-1 Signaling Promotes Pressure Overload-Induced Cardiac Dysfunction and Sudden Death. Biomolecules 2021. Mar 17;11(3):452. 5) MOREAU PR, Bosch VM, Bouvy-Liivrand M, Õunap K, Örd T, Pulkkinen HH, Pölönen P, Heinäniemi M, Ylä-Herttuala S, Laakkonen JP, Linna-Kuosmanen S, Kaikkonen MU. Profiling of primary and mature miRNA expression in atherosclerosis associated cell types. Arterioscler Thromb Vasc Biol. 2021 Jul;41(7):2149-2167. 6) KERÄNEN S, Suutarinen S., Mallick R., Laakkonen J.P., Guo D., Pawlikowska L., Jahromi B.R., Rauramaa T., Ylä-Herttuala S., Marchuk D., Krings T., Koivisto T., Lawton M., Radovanovic I., Kim H., Faughnan M.E., Frösen J. Cyclo-oxygenase 2, a putative mediator of vessel remodeling, is expressed in the brain AVM vessels and associates with inflammation  (Acta Neurochir (Wien). 2021 Jun 29. doi: 10.1007/s00701-021-04895-z. Online ahead of print.
Avainsanat
Kansikuvamme Angiogenesis lehdessä v. 2021. Kuvassa endoteelisolujen muodostamia putkilorakenteita, jotka mallintavat verisuonten muodostusta soluviljelymaljalla.
Ryhmän jäsenet - UEF
Johtaja(t)

Vanhemmat tutkijat

Väitöskirjatutkijat
Muut ryhmän jäsenet

YHTEISTYÖKUMPPANIT - UEF
Yhteistyökumppanit
Linkit